"5 year care" promotion for all 2017 LG ULTRA HD 4K LED TV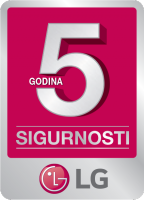 In the frame of "5 Year Care" Promotion the warranty period is extended for 5 years for the new 2017 UHD LED models purchased between 01.06 - 16.07. 2017.
Your entertainment is guaranteed for 5 Years with Your new LG UHD LED TV.
To enhance your day to day life, we take pride in the quality and durability of our products.
We also know that reliability and peace of mind matters to our customers, that's why we've introduced a new exclusive 5 Year Care promotion on premium TV sets.
To claim your extended warranty, please simply register your product on this site below with filling the empty fields.
After registration You will receive a confirmation e-mail about successful registration.
After registration we will check all of your details are correct (we may need to contact you to confirm some information.)
Your extended warranty is then processed, and you will receive final e-mail confirmation of your valid exclusive free 5 years extended warranty.
Standard two years warranty is still valid for your newly purchased model while validation is being processed.
5 Year Care promotion is only valid for the products purchased between 1st June 2017 and 31st July 2017*.
Please allow us one month for completing the validation process.
*Model numbers are included in the promotion:
43UJ6307, 43UJ634V, 43UJ635V, 43UJ6517, 43UJ670V, 43UJ701V, 43UJ7507, 49SJ810V, 49UJ6307, 49UJ634V, 49UJ635V, 49UJ6517, 49UJ670V, 49UJ701V, 49UJ7507, 55SJ810V, 55SJ850V, 55SJ950V, 55UJ6307, 55UJ634V, 55UJ635V, 55UJ6517, 55UJ670V, 55UJ701V, 55UJ7507, 60SJ810V, 60SJ850V, 60UJ6307, 60UJ634V, 60UJ6517, 60UJ7507, 65SJ810V, 65SJ850V, 65SJ950V, 65UJ6307, 65UJ634V, 65UJ670V, 65UJ701V, 65UJ7507, 75SJ955V, 75UJ675V, 86SJ957V